Parent Book Club
"The pleasure of reading is doubled when sharing with others."
Parent Book Club is a great opportunity for all parents at Selborne Primary School to meet once a month in the school and share the same book they have been reading.
It is a fantastic occasion to escape into the world of books, exploring new books as a group and enjoying discussing the chosen book.
There is no formal way to join, just showing up gets you involved.
"Be seen reading. If you don't, they won't."
Parents are the most important reading role models for children and young people; who are supported, encouraged and motivated in order to be positive, healthy and good life long learner. And usually, children are more affected by what parents do than by what parents say.
Some feedbacks from parents joining Parent Book Club:
"It is a very good idea to have Book Club for parents in our school, because we all like to talk about what we have just read, whether we loved the book or hated it and how much applies to our own life."
"It is absolutely true that we are the role models for our children. After joining Parent Book Club and start reading, I can see my children enjoying reading their own books and choosing what they want to read without being told and pushed to do."
"My children were happy seeing me reading and interested to read my book."
"The books have led to great discussions during the meetings, and I am always excited to read the next book and discuss about it with other parents."
Parent Book Club Meetings are once a month, in the Family Room at Selborne Primary School from 2:00-3:00 pm.
It would be great to see you and discuss the book over some coffee/tea and biscuits.
Next Parent Book Club meeting on Tuesday 16th July 2019, 2pm
Book of the Month: 'Sophie's World' (Jostein Gaarder)
June 2019 Parent Book Club
Book of the Month: 'Black Box Thinking' (Matthew Syed)
May 2019 Parent Book Club
Book of the Month: 'The One-Minute Miracle' (Madison Cavanaugh)
April 2019 Parent Book Club
Book of the Month: 'The One Minute Manager: Meets the Monkey' (Ken Blanchard, William Oncken JR and Hal Burrows)
Hint of the Book: Manage our Time and Dealing with Priorities.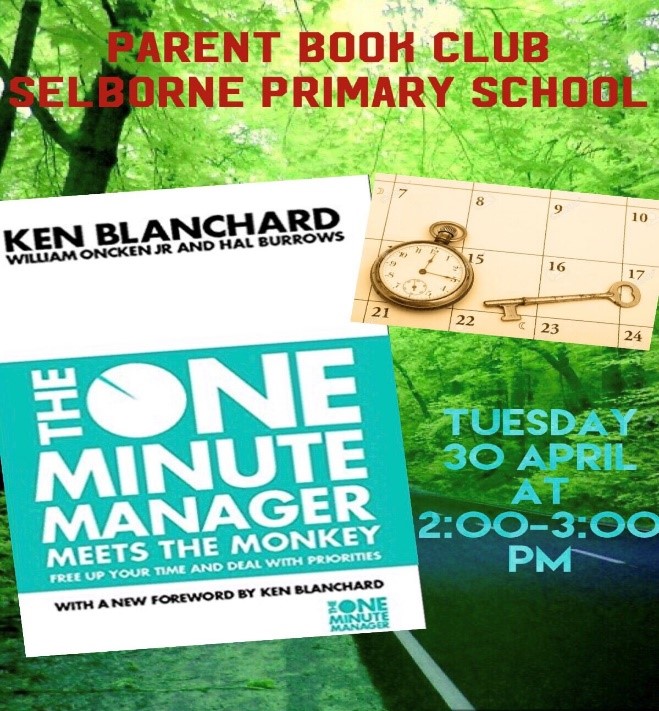 March 2019 Parent Book Club
Book of the Month: 'Full House' (Maeve Binchy)
Hint of the Book: Family Relationships.

February 2019 Parent Book Club
Book of the Month: 'Who Moved My Cheese' (Dr. Spencer Johnson)
Hint of the Book: Deal with Change in Life and in Work.
Book review
I would highly recommend 'Who Moved My Cheese' book for everybody to read it.
It is the most motivational book I have ever read. It is a very simple story, but the message is very powerful. Change is in our daily life and happening anytime. Lots of lessons can be learnt from the book: Take our own initiatives in life, improve our circumstances, to not over complicate things and avoid being used to the old behaviour, stay vigilant and prepared for the inevitable and for the unknown future events.
I like what the author wrote in his book and I thought deeply about it: "What would you do you weren't afraid?
5 Stars ⭐️⭐️⭐️⭐️⭐️
(Samia, mum of three children)
January 2019 Parent Book Club
Book of the Month: 'Screw it, Let's do it' (Richard Branson)
Hint of the Book: Inspire to Achieve.