School Dinners
Harrisons provide freshly cooked meals on site. There is a range of options including vegetarian, salad bar and fruit. All payments must be made online at www.ealingmeals.com. Harrisons contact phone number is 0208 280 0312 / 0318 / 0319.
Menu
Selborne Primary School - menu for 4th January to 12th February 2021
Universal free school meals for all Reception, Year 1 and Year 2 children
The government has ensured that from September 2014 all pupils in Reception, Year 1 and Year 2 will receive a free school meal at lunchtime. Every child in these classes is entitled to the free school meal and will be provided with one at Selborne Primary School.
Packed lunch (only for Year 3, 4, 5 and 6 pupils)
If your child brings a packed lunch to eat in school, it should be a balanced lunch and should contain at least one item from each of the following categories:
Starchy foods: These are bread, rice, potatoes, pasta and others

Protein foods: These are meat, fish, eggs, beans and others

A dairy item: This could be cheese or a yoghurt

Vegetables or salad and a portion of fruit.
Please ensure that nuts, chocolate or fizzy drinks are not included in your child's lunch; only water is permitted.
Meat Free Mondays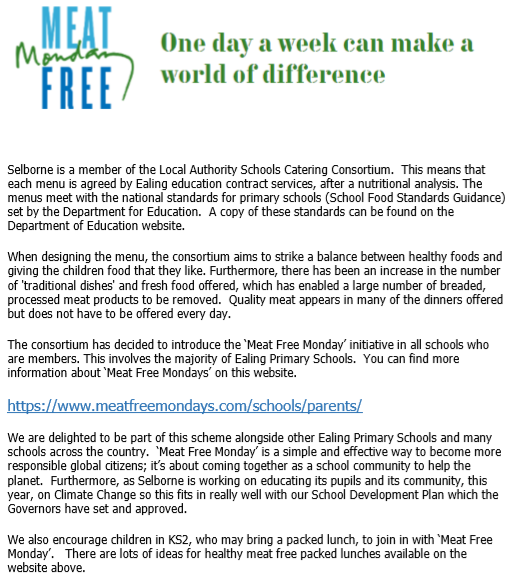 Free school meals
YOU COULD ALSO BE ENTITLED TO FREE SCHOOL MEALS!
Do you claim any of the following:-
Benefit/Income

Income support

Job-Seekers Allowance

NASS

Child Tax Credit

Employment and Support Allowances

Pension Credit with Child Tax Credit

Incapacity Benefit

Incapacity Benefit with Child Tax Credit
If yes, then you may be entitled to Free School Meals. We strongly encourage you to apply for this benefit as the school also received additional funding to provide interventions for your child.
Please ask at the school office for a Free School Meal application form, this process is confidential.